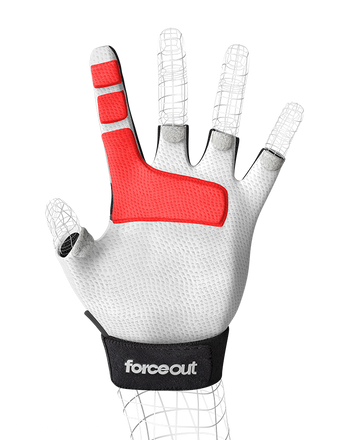 Precision Pad Placement
The Forceout Pro selectively places pads only in the most vulnerable areas of the hand, allowing the player to stay in touch with their mitt. (Red area indicates placement of pads)
Less is More
Our former professional baseball players know that less is more when you're on the field. This is why we leave most of your fingers free, giving you that important tactile feeling every player wants.
Featured product


When the game is on the line, you want your best tools. Designed by professional baseball players, the Forceout Pro is a protective inner glove that allows you to play with confidence and comfort. No other glove on the market gives you the feeling you need while keeping you protected from ball to glove impact. 
Impact absorbing gel for protection without the sting
Open finger grip
Flex joint spacing for ultimate mobility
Quality Cabretta leather for big league endurance
Flex fitting front closure 
Easy-off pull tabs
 *Wire frame element on glove images are to show reference of hand in glove
Size Chart
Measure the distance between the tip of your middle finger and the base of your palm. Next, see chart below to find your ideal size Forceout. Easy, peezy!

Testimonials

"I use the Forceout glove because of the comfort it provides. The design allows for the control of your bare hand without sacrificing the protection to keep you in the game."
– Jason Castro, Minnesota Twins

Wanted to touch base with you and say hey, and thanks..man no way would I be catching and gearing up to transfer to a four year program without the Forceout. Have used one every season since Freshman year...can't do without it.
– Jax Shull, College Baseball Player
See How Life and Baseball Hurts SO GOOD!